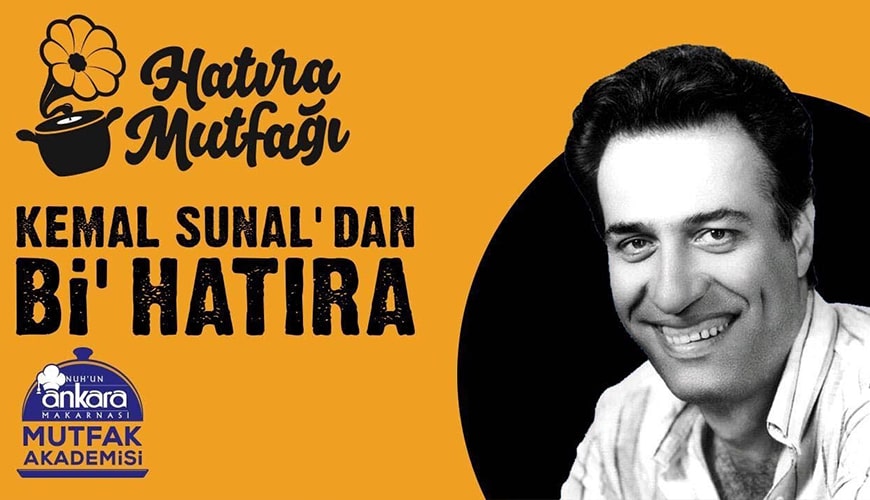 We tought "If Kemal Sunal were to participate in The Memento Kitchen, we would have to host him with the best foods" and we prepared a meal he might had liked: Grilled Skewer Meat and Oven Vegetable Pasta!
Ingredients & Recipe
400 gr of mutton
50 gr tail fatty
1 clove of garlic
200 gr of pearl onion
200 gr of cherry tomatoes
4 green peppers
3 eggplants
2 red peppers
1 tablespoon of butter
1 tablespoon of olive oil
1 lemon
Juice of 1 onion
1 dessertspoon of salt
1 teaspoon of black pepper
10 wooden skewers
Nuh'un Ankara Makarnası Twist
First of all, we season the mutton in onion juice. While it is being seasoned, we prepare our vegetables. On the other hand, we roasted eggplants and peppers in the oven for pasta salad. We make a salad with cooked pasta, lemon, olive oil and vegetables; we use parsley to colour it up.  At last, we cook our meat in cast iron pot and serve it with the salad
A Memento
Emel Sayin witnessed an incident in the movie set of Mavi Boncuk, in which a rug was kidnapped. After she saw Kemal Sunal who was walking after receiving his payment even though his destination was really far, she felt curious and followed him. Kemal Sunal entered a restaurant and left shortly after, and Emel Sayin asked the owner: "did that man had a debt to you" and they said "No". Actually, Kemal Sunal was giving some money to the restaurant when he received his payments in order to help the poor. Similar to the Bread on the Hook Not only he was emotionally satisfying us by making us happy, but he was also helping the poor.
Tip
In order for the skewered meat to not overcook, it will be beneficial to leave them in water for a while. Meat which absorbs the water, will be perfect by the time its is cooked. If we don't do this, we overcook them which ruins both the appearance and the taste.
Click here to examine our other recipes which we use in our A Memento
Relevant Videos