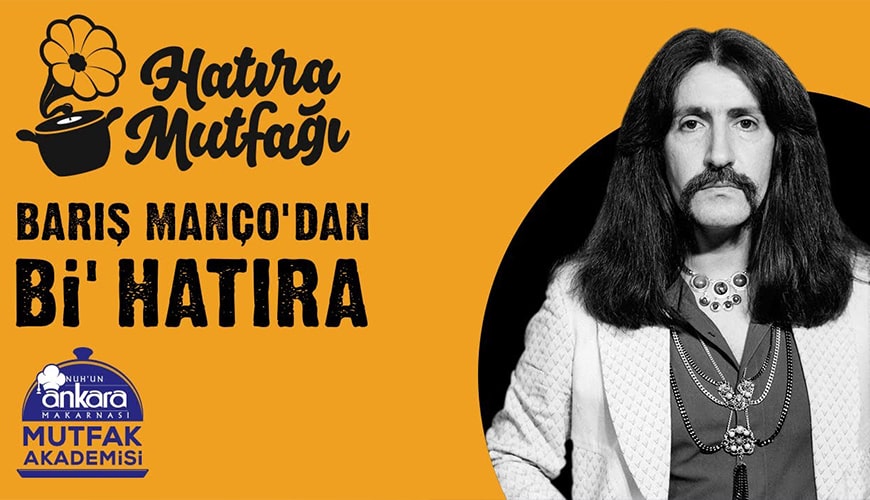 Ingredients & Recipe
100 gr dried flower okra
8 cherry tomatoes
1 red pepper
250 gr chopped meat
1 tablespoon of tomato pasta
1 onion
Half a lemon
1 liter of water
Nuh'un Ankara Makarnasi Vitamin Star Noodle
We start by sauteing our meat in olive oil. While the meat are being sauted, we chop onions, peppers and tomatoes We add onions and peppers to the meat. After a couple minutes, we add tomatoes, paste and 1 liter of water and let them cook. On the other hand, in the Tip Corner we cooked our okra in lemon water, we drained them, removed their straines and made them ready. Last of all, we add salt and black pepper to the meal to which we add okra and star noddles and we are done cooking. Bon Appetit!
A Memento
When Baris Manco released his first vinyl in France, it was also brought to Turkey. While it was playing on Istanbul Radio, he is announced as "Baris Manco, young talent from France". His mother, upon hearing this immediately leaves her home and takes a cab to Istanbul Radio and she says "He is my son and he is Turkish" to the authorities.
Tip
While we prepare our dry flower okra for cooking, we place them on a clean kitchen cloth and properly rub themk. After this is completed, you will see that your okras are clean and unwanted strings and pieces are eliminated. Later, we cook our okras in a boiling water with lemon juice. After we drain them, we remove their strings and make them ready for the meal. Since fresh okras aren't available as of now, if you want to eat okras, you can prepare dried okras in this manner and use them for your meals and soups. Bon Appetit!
Click here to examine our other recipes which we use in our A Memento
Relevant Videos