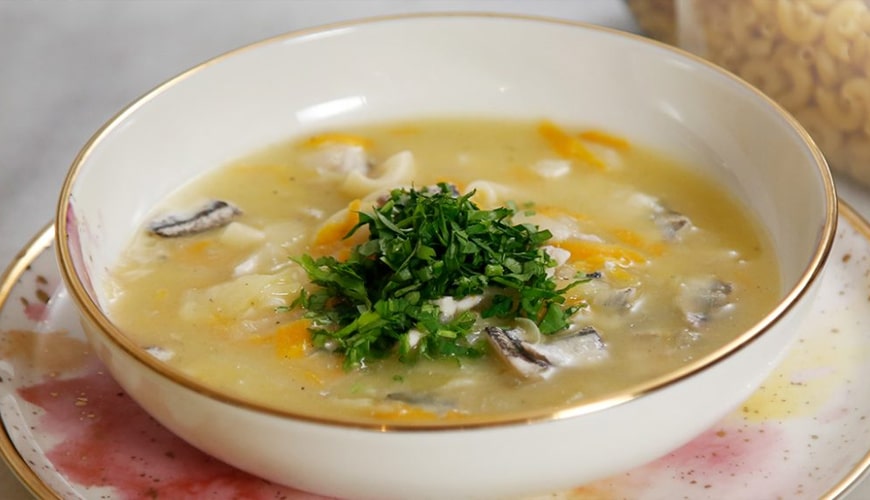 Ingredients
1 Coffee Cup of Nuh'un Ankara Makarnasi Vitamin Elbow
400 of anchovy
1 tablespoon of butter
1 carrot
1 potato
2 cloves of garlic
1 soup spoon of flour
1 liters of warm water
1 Onion
1 bayleaf
1 lemon
Half a bunch of parsley
Salt
Black pepper
Preparation
We thinly slice the onion.
We place the onions into a bowl and we add 1 tablespoon of butter into the pot.
After our butter is rendered, we add onions and roast them.
We peel and grate 1 carrot and 1 potato.
When onions are ready, we add carrot and potato and continue roasting.
We thinly slice 2 cloves of garlic and add them to the pot and roast them for 2 minutes.
We add 1 tablespoon of lour into the pot and mix.
While continuously mixing, we add 1 liter of warm water.
We add 1 teaspoon of salt and half a teaspoon of black pepper and mix our soup.
We put our soup in low heat when it start boiling and we add 1 coffee cup of Nuh'un Ankara Makarnasi Vitamin Elbow and let it cook.
While our soup is cooking, we slice 400 grams of pre-cleaned anchovy into two pieces and then chop them into 3 pieces.
We add chopped anchovy into our soup and we add 1 bayleaf and juice of 1 lemon.
We thinly slice half a bunch of garden parsley for serving.
After 10 minutes, our soup is ready. Bon Appetit!
Relevant Videos